Antuzi folklore group
Vīkala
---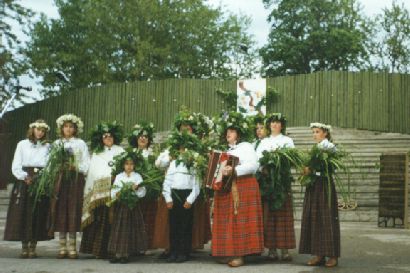 John's day meeting on Krustpils isle, 22 June 1998
Name: Vīkala
meaning: spinner
recommended transcription in English: Vikala
approximate pronunciation in English: Veekala
Listen pronunciation in AU format (14 Kb)

Created: 5 September 1996
Location: Antuzi, Variesi parish, Jekabpils distr., Latgalia
Leader: Inese Prokofjeva
Number of participants: 15, of them by age:
younger than 14 years: 6
from 14 to 24 years: 4
from 25 to 44 years: 4
from 45 to 64 years: 1
and by gender:
males: 3
females: 12
Forms of activity: sing, play music, dance, play roundelays
Musical instruments: accordion, kokle (psaltery), pipes.
Description: Folklore group Vīkala was created 5 September 1996. The word "vīkala" means "spinner". Thread spinned by our deities is the thread of life. While a man is still alive, his thread is unbroken; when the thread breaks, the man dies. Day, light have a thread of life too, spinned by the sun and her daughters. When the thread breaks, night comes. We, participants of folklore group Vīkala, spin a song thread. A real Latvian, while he is alive, sings - meeting a new day, working, sitting down to table, in his joys and worries.
Our repertoir is wide: songs for Easter, for John's day, Christmas, Shrovetide, Martinmas, the Day of harvest, songs about spirits of dead, about soldier's, joint working etc. A holiday does not pass without roundelays and dancing, which are taught also to the spectators.

Spiritual evening in Antuzi club, 18 November 1996
Address:
in Latvian: Inese Prokofjeva, Apīņi, Antūži, Jēkabpils raj., LV-5209, Latvija
in English: Inese Prokofjeva, Apini, Antuzi, Jekabpils distr., LV-5209, Latvia
Phone: (+371) 52-70201

Date of presenting the information: 30 August 1998