Ceremony of presentation with The Big annual folklore prize,
31 October 2002
On Thursday on the stage of Riga Latvian society were presented the folklore prizes. The ceremony was conducted by Dace Bula and Andris Kapusts. After introduction words, the prize-winners have come in the hall, leaded by bagpipes' players group. A representative of the minister of culture Karīna Pētersone has read her congratulation, and then Barta ethnographical sang a song.
After that the chairman of the commission of experts, archaeologist Juris Urtāns has speaked. He has told about connection of archaeology with folklore: his father spoke, that archaeology is a dead folklore, but folklore - alive archaeology. Mr. Urtāns also has presented the first prize - for the publication of materials of traditional culture; Māra Vīksna, Elga Melne, Vilis Bendorfs and Dace Sparāne have awarded for the edition of the unpublished volume of fairy tales assembled by A. Lerhs-Puškaitis.


The participants of camp Threenine small musicians act
The prizes for encouragement of education have received Ruta Cibule, Anda Beitāne and Dzintars Čerbakovs (for organization of youth camp Dung-joint-work in Latgalia), and Pēteris Jansons (for organization of children's musical camp Threenine small musicians). Then children's ensemble Taureņi and participants of musical camp sang one song each.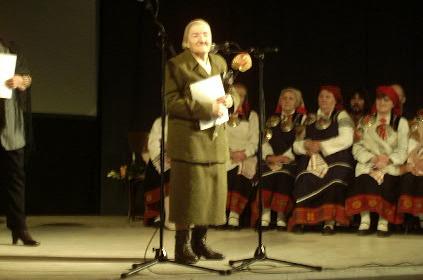 Rita Drīzule say words of gratitude
The prizes for the contribution of lifetime were received with the researchers of folklore Rita Drīzule and Mirdza Berzinska, author of the book "The Livonian village, which does not exist any more", Livonian by nationality Valda Marija Šuvcāne and masters of handicraft arts Ella Ceriņa and Jāzeps Radziņš.


Sing Ilga Leimane and Lidija Jansone
The prizes for protection of regional peculiarity have received student of local lore Sigurds Rusmanis and - for arrangement of performance Suiti wedding - leader of ethnographical ensemble Suitu sievas Ilga Leimane and leader of ethnographical ensemble Gudenieku suiti Lidija Jansone.
The prize for popularization of the traditional cultural heritage has received film unit of film about Latgalian ceramics Magic of clay: Ieva Freinberga, Janīna Kursīte, Ginta Kaldava and Normunds Čirkste.
Suddenly, to general surprise, announcer has put a microphone horizontally and has announced, that an Indian dance will be performed. It tourned out, that the dancer is Russian scientist, author of the book about Latvian ornaments and and winner of the prize for scientific research in the field of traditional culture Svetlana Ryzhakova.


Sing Rucava ethnographical ensemble
The prizes for protection of heritage of traditional culture have received Barta and Rucava ethnographical ensembles. The ceremony was finished by a song of Rucava ensemble.


People gather for big pretzels eating
After the concert all have invited to the White hall for big pretzels eating and champagne drinking. Of course, it has not done without songs.

Article: Ansis Ataols Bērziņš, 3 November 2002
Photos: Ansis Ataols Bērziņš