Folk musicians fest, Borkova,
1-3 August 2003
Per the first days of August in Borkova - a village of the western part of Latgalia - a Folk musicians fest was organized.


Dances of the Friday's evening
The fest began in Friday evening by dances under a management of the Riga Dance club. The dancings have passed successfully - the hall was suitable, the music - good, and there was enough of dancers too.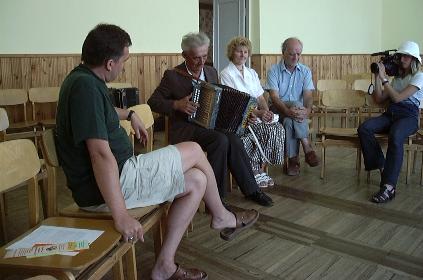 Master-classes - plays Ivars Melkis
Master-classes of old folk musicians were planned to the Saturday's morning. Unfortunately, majority of them have not arrived: some - on because of health problems, some - because the people promised them to bring, does not kept the word. Thus, at the classes the skills showed only three persons: Ivars Melkis (squeeze-box; from Kuorsova), Zita Salcevica (squeeze-box; from Borkova) and Jurgis Ukrinas (violin, saw; from Riga, by nationality - Samogotian).


Vērtumnieki

Ilža

Madaviņa
On Saturday there were also two concerts. At the midday's concert have performed Vērtumnieki from Madona in staff of five men (sang beautifully), ensemble of the Borkova school Madaviņa (a lot of singers, and some musicians too), Ilža from Cybla (with a charming Latgalian summer performance) and Ivars Melkis (he sometimes missed the chords). At the end, under a management of Jurgis Ukrinas the musicians have played together one Samogotian polka.


Plays Juons and Piters (from right side)
After the concert some spectators, which in youth played squeeze-boxes and violins, have joined the musicians.


Madaviņa

Andris Kapusts and Aida Rancane

Mētrienas muzikanti
At the evening concert have performed Madaviņa, the couple of Kapusts (they played some more ancient instruments - bag-pipe, psaltery, guimbarde and timbrel), Zita Salcevica with hromka (played well), Metriena musicians with repertoir of Raimonds Pauls and falsy singing and playing, Vērtumnieki - this time in staff of only two men (sounded weak) and Maskačkas spēlmaņi - also only two participants (squeeze-box, violin). As in Borkova in the same day was celebrated the Fest of cemetery, there were not folk dances this night: in the club played an ensemble with synthesizer and electrical guitar.

The Sunday began by a seminar about playing of the folk music in Latvia, about it's problems and opportunities of development.


Plays Borkovans Aija and Juons
The final concert has started by a performance of local people - Aija (accordion) and Juons (violin). They played melodies of Juons's youth's times. Because Juons did not played a violin for a long time, he sang the melody too, and it sounded a little bit funny.


Igauns's family's band
The concert and the fest was finished by a performance of band of Igauns's family: multivoiced singing of the daughters, vigorous playing of dances and unchained Latgalian speech, that was very actual in Borkova, there inhabitants have a complex of disclaiming of the Latgalian identity.

If not to take into account that the most part of "protagonists" - the old musicians - have not arrived, it is possible to consider that the fest was succesfull. At the concerts were enough of listeners. And, certainly, it is necessary to mention the home-made beer, which all the three days pleased stomaches and hearts of the participants.

Article: Ansis Ataols Bērziņš, 13 August 2003
Photos: Ansis Ataols Bērziņš